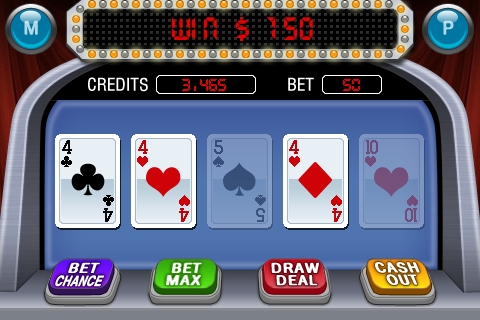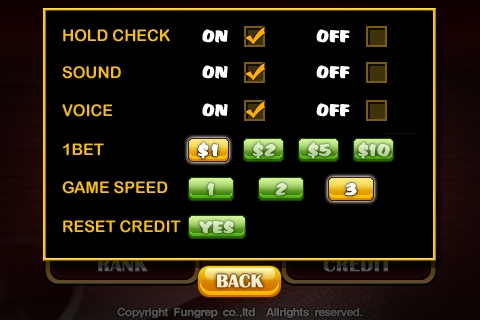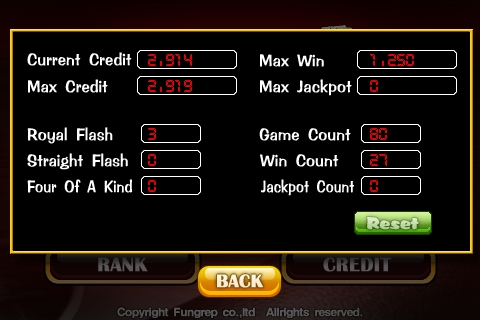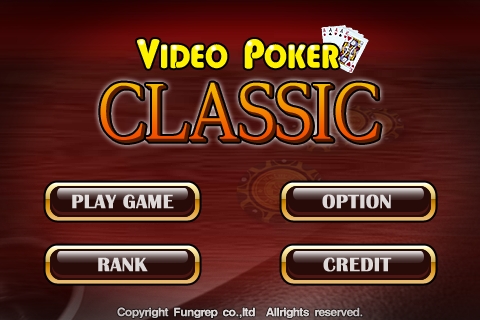 Video Poker Classic v1.0
is a famous casino game based on five-card draw poker. It is designed to optimize the game for the iPhone or iPod touch.
<How to play>
1. Betting : maximum 5 bets are permitted.
2. Click the "Deal" button to receive your card
3. Select Cards does not changed by touch
4. Obtain game money when occur up to "JACKs".
<Features>
ㅇ Auto Hold Check
Recommending appropriate "Hold card" to increase the probability of obtain higher.
ㅇ Betting Money Change
Set up betting money $1, $2, $5, $10 each and can bet maximum up to $50.
ㅇ Betting Chance (Double Bet)
Double betting by pre-earned money can be higher betting and can be give player more excitement.
ㅇ Various Screen Change Effect
Various display transitions and effects will be fun.
ㅇ Simple & Hi Quality Graphic
Simple and high-quality graphical screen design provides elegant design.
ㅇ Jackpot System
Accumulated game money during playing can be acquired at once Jackpot systems.
ㅇ Long Battery, Low powered CPU
Using the low power system of "CK IPhone Game Engine" optimized to iPhone or iPod touch, players can enjoy to playing for long time.

<Keywords>
Video Poker, Video Poker Games, Video Poker Game, Video Poker rules, Video Poker rule, Video Poker strategy, Slot Machine, Slot Machine Games, Slot Machine Game, Slot Machine strategy